Testimonials of Our Happy Customers
TRULY The PERFECT Pup!!
We picked up our Baby Chihuahua early this year, my has she grown into a BEAUTIFUL dog! im sure you remember her! Here she is today probably done growing at about 4 pounds it's DAISY MAE!
Brett and Lynn Steinbeck
Trustworthy
I was so pleased to get my Newfy from the perfect pup! Not only are they so helpful in the beginning process but continue to educate you with any questions you have later. I think Chris and his staff are so educated and helpful when introducing your new pup to your home!
Sarah
Awesome People!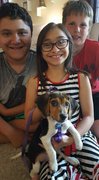 My 13-week old beagle adopted me on June 6, 2016. Christine and her son, Chris, were just awesome. The adoption process was fast, comprehensible and simply outstanding. Chris gave us more toys and an extra collar for no extra cost. He even placed the collar around my puppy's neck for us. Christine helped my daughter and I get all the things we needed inside my car. I am so happy with my quadruped son!!!! God bless the staff and the company!!!
Cheryl E
Love the Perfect Pup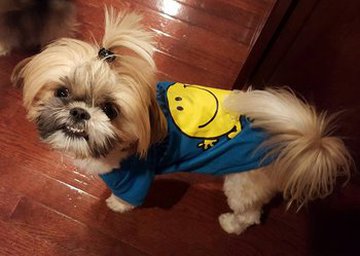 I absolutely love this store! Everytime you go in the employees are very friendly and knowledgeable. I got my Shih Tzu here about 3 years ago and he is perfect :) I tell all my family and friends about this place. I would definitely buy again from here.
Alexa P
great store
I absolutely loved this store, brought are newest addition to the family home, The staff was so knowledgeable and caring about all the puppies. I recommend Perfect pet to everyone.
Kim E
---
All Testimonials
TRULY The PERFECT Pup!!

We picked up our Baby Chihuahua early this year, my has she grown into a BEAUTIFUL dog! im sure you remember her! Here she is today probably done growing at about 4 pounds it's DAISY MAE!

Brett and Lynn Steinbeck

Trustworthy

I was so pleased to get my Newfy from the perfect pup! Not only are they so helpful in the beginning process but continue to educate you with any questions you have later. I think Chris and his staff are so educated and helpful when introducing your new pup to your home!

Sarah

Awesome People!

My 13-week old beagle adopted me on June 6, 2016. Christine and her son, Chris, were just awesome. The adoption process was fast, comprehensible and simply outstanding. Chris gave us more toys and an extra collar for no extra cost. He even placed the collar around my puppy's neck for us. Christine helped my daughter and I get all the things we needed inside my car. I am so happy with my quadruped son!!!! God bless the staff and the company!!!

Cheryl E

Love the Perfect Pup

I absolutely love this store! Everytime you go in the employees are very friendly and knowledgeable. I got my Shih Tzu here about 3 years ago and he is perfect :) I tell all my family and friends about this place. I would definitely buy again from here.

Alexa P

great store

I absolutely loved this store, brought are newest addition to the family home, The staff was so knowledgeable and caring about all the puppies. I recommend Perfect pet to everyone.

Kim E

Indy

I got Indy almost one year ago now at The Perfect Pup. He's sweet, beautiful, smart, & very well behaved. The staff was very friendly when we picked him up and very informative. Thank you for connecting me with my best buddy. He's a great dog and I appreciate how helpful you were!

Jess

Love our puppy!

We bought our Yorkie from here in October of 2015. We LOVE him to pieces. Sweet temperament, no health issues, great personality, it was an awesome experience. We have had very bad luck with dogs in the past and were wary about purchasing a puppy, this experience has been great! I HIGHLY reccomend this store to anyone looking for a healthy, quality bred, non-puppy mill dog. Worth every penny!

Felicia

Our Newfoundland is five now

Samson was bought from this family store GREAT SERVICE AND CARE ALWAYS Sam is a great partner for Ken in the car and a real gentle giant He is gorgeous inside and outside as well Would buy from them again and again Always there for us Even in emergencies Our dog sitter is 92 years old now and the owners said "anytime our lady needs help, they will do it for us" Can not ask for more!!!!!!! Fondly, Samson's mom and dad Ken and Nadyne AND of course his older Newfoundland Sister, Sadie Mae

Ken and Nadyne

Love my Fur Baby!!!

I went into the Perfect Pup one day to look at a puppy I saw on the website. I walked around and fell madly in love with a puppy that I had no intentions of even looking at. I picked him up and he stole my heart. He is perfect! I've had him now for 9 months and he's enriched my life so much. I've had dogs in the past but he is my first puppy. A lot to learn in the beginning and at times have tested my patience but the love he has for me and my family is priceless. The Perfect Pup was a huge help in the beginning because I felt like I wasn't doing the right thing. My experience was truly an amazing one. When the time is right, the Perfect Pup will have our business again! Thank you so much! Fozzi is so happy with us and we are so happy with him!

Angel, Selina and Fozzi A

THE BEST PLACE EVER!!!

I bought a shih-poo puppy, she is the best thing that has ever happened to me!!!!!I love her. She may soon become a service dog!

Stormy, Otis and Jessie

Wonderful Place, Wonderful People !!!

We had been visiting this store for quite sometime and when we moved into our new home we finally purchased our first Puppy from them. Our Chiweenie Harley is a awesome Puppy, with such a big personality. Thank You so much!! We knew he was the one after our daughter fell in love with him and you made the process so quick and easy so we could surprise our daughter with him !!

Rocky & Bethany R

testimonial

We got out puppy, a goldendoodle from The Perfect Pup, and he is certainly the perfect puppy for us. Cooper has been the perfect fit for our family and it has been the best decision I have ever made. The Perfect Pup has a great team, the offer full service once you purchase your puppy. I have taken advantage of a few already. The boarding has been very easy, and Cooper loved it. Christine is wonderful. I can't wait to start the training class.

Coopers family, The Hennelly's